25 Jul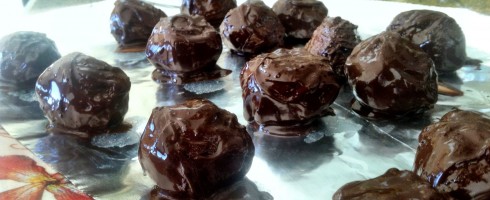 Do you have a huge sweet tooth that just can't be curbed by a bowl of berries? Well, I do. I have a sweet tooth that craves CHOCOLATE. And giving me some raspberries is just not gonna cut it. Sorry 'bout it.
But here's a nice little dessert that portion-controls itself. That allows you to indulge in all things chocolate and tasty. Cake Balls. For people who are just too lazy cool to pop them on a stick.
***Warning: You are going be asked to "play with your food." AKA get your hands nice and dirty! 
All you need are three simple Ingredients:
Directions: 
Prepare the cake batter as the back of the box tells you to do. But instead of keeping the pan in the oven for the entire time suggested, take it out 10 minutes earlier.
Let the cake cool. Once it's cool enough (but still fairly warm) start crumbling the masterpiece with your hands.  Smush it, knead it, and take the crumbled-up pieces and place them into a large bowl. (I sure hope you washed your hands before starting this!) 
Add about 3/4 of the can of frosting to your smashed-up cake. Mix it up real good. Trust me, guys, a spoon is just not gonna do it. You've gotta get dirty.
Roll the end result into little balls – you choose what size works for you!
Heat up some Baker's Chocolate and dip the balls in. Place on a tray. Put tray in fridge to harden.
Keep in mind that this works amazingly with other flavors as well. I've done it with Funfetti Cake and Cream Cheese Frosting, Chocolate Cake and Vanilla Frosting. Anything works!

I'm not usually a frosting person. Especially not the frosting that comes in a can like this. But when you add it within the cake, rather than on top, it adds a sense of moisture that'll last for days. Unlike your typical cake or brownies that lose moisture after a day or two, cake balls can be made, frozen, and eaten for weeks (but, let's be honest, you'll probably finish them off before then). 
*********************************
What is your ideal cake/frosting combination?