18 Jan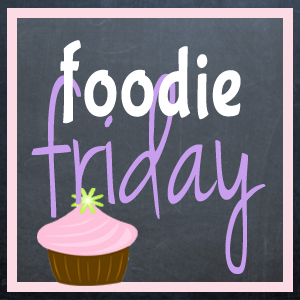 It's been a while since I've done a Foodie Friday post. Probably because I have nothing new and creative going on over here. Whatever I find in my fridge gets thrown in a tupperware and I'm out the door by 6:30AM for work (Want some friendly advice? Don't try to mix in salsa on top of something you've marinated in soy sauce. I'm speaking from laziness experience). 
Every Friday at brunch, the teachers congregate in the staff lounge for Friday treats. Back in August, staff members that wanted to participate in the weekly event signed up for a couple slots throughout the year. Today I, along with two others, are cooking brunch-themed foods. We do not buy pre-made brownies and Safeway cookies and call it a party. We develop themes. We take into account the weather, the holiday, the level of stress (soul food anyone?!). We've got the real meal deal going on each week.
More than half the time, Friday treats is comfort food. We are all ridiculously stressed. It's the end of the week and most of us are exhausted. And nothing sounds better than some chocolate-peanut butter cheesecake or stuffed-crust pizza with a slab of lasagna to top it off. On occasion, we may walk in to find some homemade soup or a side of fruit. But for the most part, it's not the healthiest.
This week, I wanted to switch things up. I wanted to make something that I wouldn't feel guilty eating. But also something fun and different. I've been on an egg-kick lately but there are over 40 people participating in this and I wasn't about to cook up omelettes for all of them. So I just threw all the omelette ingredients into a pan and called it a casserole. Thats what all the fancy people do, isn't it?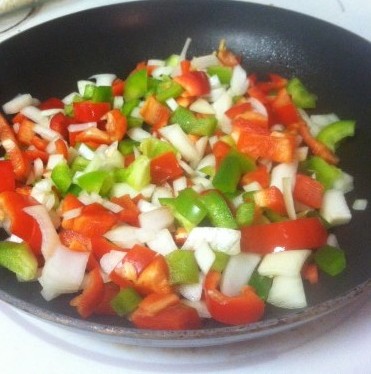 Bottom layer of potatoes. And stacked layers of: bellpeppers + onions + lean ground turkey + a handful of cheese. All covered with 3 eggs + 5 egg whites + 1 cup milk.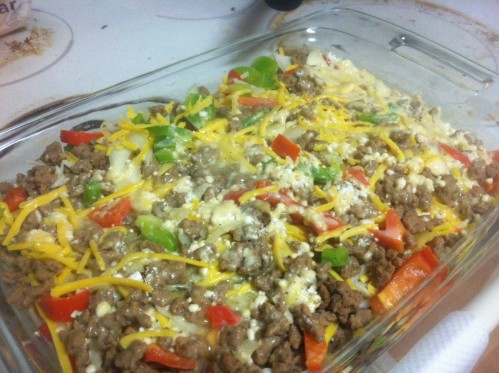 That's what the casserole looks like before it goes into the oven. After that picture was snapped, I wrapped it up in aluminum foil overnight and stuck it in the fridge (along with 3 others. I'm a vegetable-chopping, casserole-making, Paula Dean machine). I'll just bake it once I get to work in the morning!
We'll see how the final product turns out in the afternoon!
*************************************************
What are some healthified breakfast recipes you've created?! Please share the link or recipe below! I've gotta get cookin' again! I MISS IT!