13 Jan
This past week back at work has been pretty rough. Prior to winter break, life was so hectic. Work was just go-go-go-go-go so I kept going. And then I got two weeks off. So let's just say that coming back to work has been a pretty big adjustment. I think my body forgot how to go.
I know myself and I know that I work better and more productively when I have a lot of things going on.  I just have to relay the message to my body. I've been coming home every day this week exhausted and unwilling to do anything. I'm pretty sure that there were two days that I just passed out before dinner and slept through the night. (You know there's something wrong with me when I skip a meal). I signed up for the fourth round of Tina's Best Body Bootcamp back in December to help motivate me to keep up with my resolutions. It started on Monday, but I didn't print out the workouts until Friday. Fail on my part, but better late than never, right? I'll just be a couple days behind.
I spent most of this weekend trying to get my life in order – my apartment, my lesson plans, IEPs, and I tackled some nagging tasks that I've been putting off. I feel a lot more prepared for this week – mentally and physically.
Aside from being a little tired and unprepared, the week hasn't been too bad!

On Wednesday, I drove out to the city to watch Lion King, the musical! It wasn't the first time I've seen it and, to be honest, I think I may have enjoyed it more the first time around – probably because I got kind of sleepy toward the end. I blame the fact that it was a school night (but more likely it was because I had two glasses of wine with dinner). 

Speaking of dinner, it was delicious. We went to Brenda's French Soul Food and, at first, I was a little apprehensive because I despise all things seafood (and they're known for their crawfish beignet). It was probably the two glasses of wine that gave me the courage to try it, but I did. And it was wonderful.
I ordered the burger (assuming that I wouldn't eat the beignet) but could only finish half of it since I finished a whole beignet to myself. I'm not typically a brancher-outter (<—- leave me alone, that's a word) so when I do branch out, I like to show it off to the world.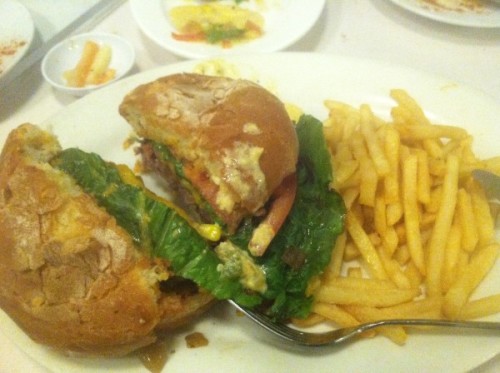 A very fun night overall.
************************************
Are you a brancher-outter? Or are you a creature of habit?