31 May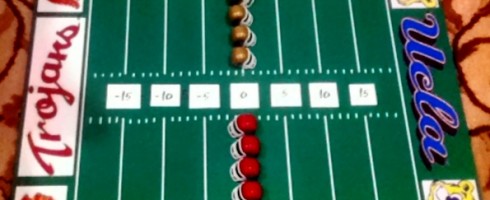 The interview yesterday went really, really well! I think it reaffirmed that teaching in an urban school is what I really want to do and what I'm really passionate about. I ended up only having to work with three students (the 4th was absent). They were so respectful and polite and quiet (possibly because the principal and the dean were in the room observing). But I think they seemed to enjoy the adding/subtracting integers game that I created.
Some more pictures with the actual game board:
I think the best part about the interview is that they allowed me to reflect on my lesson before they gave me any feedback. So I got to talk about the activity's strengths and I got to tell them where I think I could have improved. I really appreciated that because I think that gave me the opportunity to show them that I was aware of what areas needed to be tweaked and targeted. Rather than them just attacking me with what went wrong with the lesson. It seemed like a great school, a great staff, and really supportive administrators. We'll see what happens!
After the interview, I went to stop by to visit one of my former campers, Jackie (camp name: Spidey). Camper turned volunteer

Really hard to think that – makes me feel so OLD!
And then met up with Roxana/Star to grab dinner. She's moving to Chicago in less than two weeks for Teach for America! So proud of her…she's been doing City Year   in downtown LA for almost a year and I think she's going to be a wonderful teacher! We had a really interesting conversation about paraprofessionals in the classroom. It seems like (1) a majority of paraprofessionals and 1:1 aides don't really have a background or formal training in education and (2) teachers don't utilize their TA's or paraprofessionals in the best possible way. It seems like teachers don't know how (or aren't willing to) utilize paraprofessionals in their daily lesson plans. Instead, these paraprofessionals (who may often times be really qualified, educated individuals) are off making copies or sitting in the back of the room until something needs to get done. I feel like an effective educator should utilize the extra support and figure out how it would best benefit the students. Perhaps breaking the students off into centers so that they're all getting more individualized attention? Or having the paraprofessional teach a lesson so the teacher can walk around and assess for understanding. There's so many advantages to having that extra pair of hands in the classroom – it's just on the teachers to figure out how to utilize them.
So. among our intense discussion, we also got to enjoy some great appetizers, sushi, and of course sake (peach-flavored apparently). A great night with great company! =)